As most people who ended home and aimless during the first lockdown, I cooked a bit more than usual and attempted new recipes. Now that we are in a second lockdown (albeit a so-called 'lite lockdown'), after almost a year of not leaving Berlin and not seeing my family I tend to crave for more rustic french cuisine, but I do occasionally cook those recipes I came up with during the first lockdown. Three of them were good enough for me to write them down: one is a fried rice recipe, while the two others are spring recipes so not necessarily interesting for the time being (a recipe of pasta with squids and another of an eggplant-based sauce for pasta as well).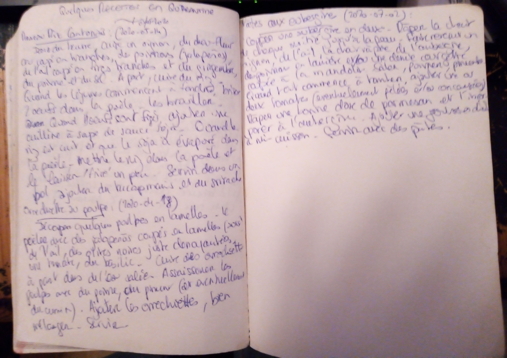 The fried rice recipe is more a template of a recipe really, as I don't think I ever used twice the same set of ingredients despite having made myself this dish ten to fifteen times since last March.
When I moved to Toulouse, I lived in a flat on top of a chinese restaurant (the Phoenix, which closed later and was replaced by a japanese tea house, the Okini, both were excellent and very welcoming). Among the many delicious meals they were making was the so-called cantonese rice, a dish of fried rice with eggs, peas, pork, etc. At the time I tried to reproduce it at home with various successes. But nowadays that my tastes changed a little, I wanted to revisit it. So here is what I came up with, with my apologies to China for bastardizing one of their excellent regional recipe.
The idea is on one hand, in a frying pan, to sauté garlic, an onion and some vegetables (yesterday I used turnips, but it works well with cauliflowers, bell-peppers, carrots, broadbeans, peas, etc. As I said it's really just a template of a dish) and/or mushrooms, and eventually some meat, fish or seafood (yesterday I did it with shrimps but I tried monkfish and chicken in the past), all that in butter with ginger powder, salt, pepper and eventually a bunch of chilies. On the other hand, cook some rice in salted water as usual (preferentially a 'round' rice like arborio). When the vegetables soften, add a spoonful of soy sauce, and soon after crack an egg or two in it. Scramble the egg so that it coats the vegetables. When the rice is done and the liquid evaporated in the frying pan, add the rice to the vegetables, stir and let cook for 5-10min while stirring so that the rice doesn't stick too much. I then serve that in a bowl with a swirl of kecap manis and a swirl of sriracha.
Writing this recipe down I realize that it is in fact a mix between the vague memory I have of the Phoenix's cantonese rice and my sister-in-law's nasi goreng. The result is maybe not as good as any of those two, but I like it and it matches my current taste somehow.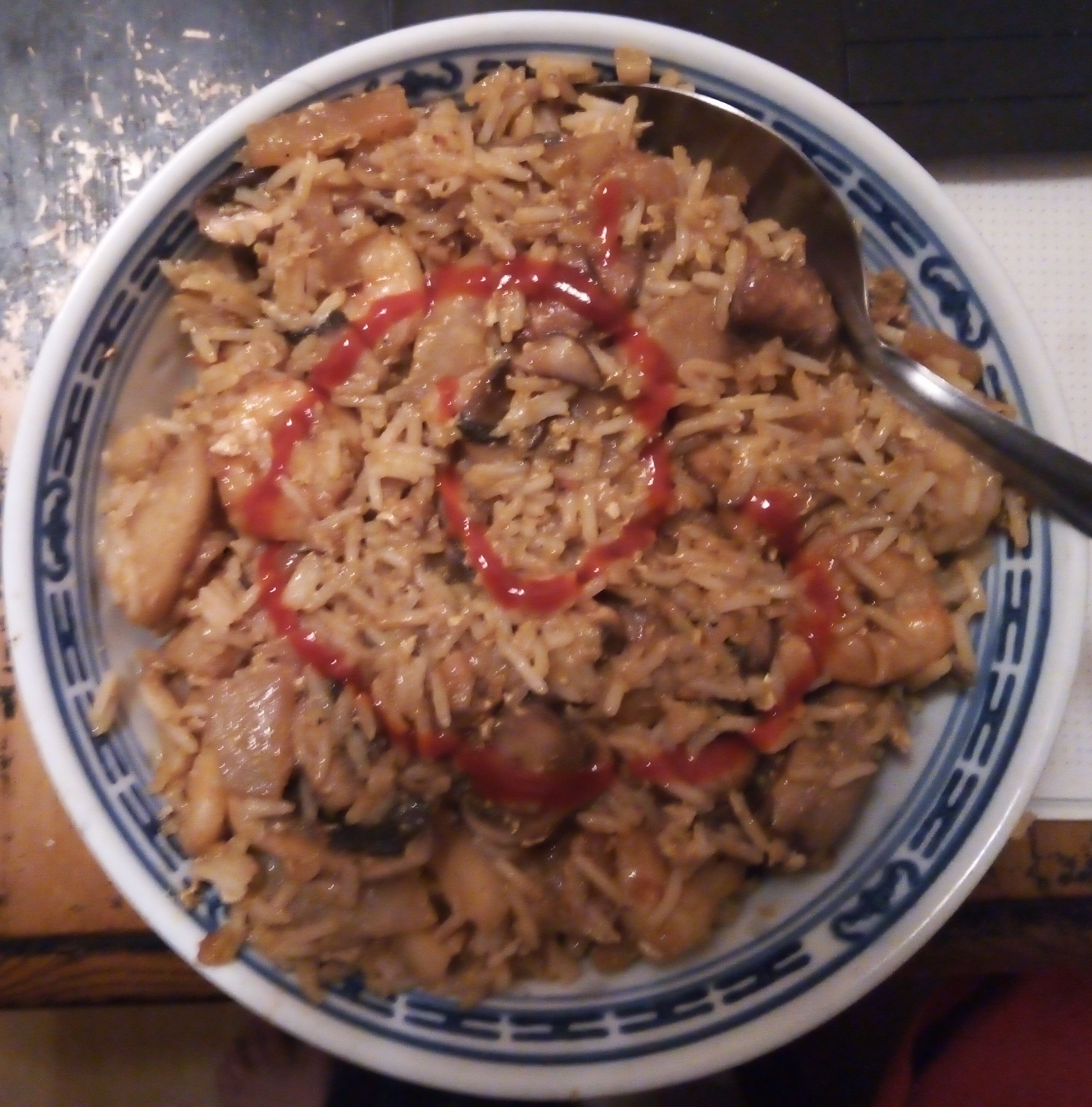 As for the two other recipes, here they are briefly:
For the orrechiette with squids, cut the squids and some jalapeños in thin stripes. Sauté them with some garlic and a handful of black olives (pitted), a tomato and some basil. Season with black pepper, chili and eventually a dash of cumin. Mix with the cooked orrechiette. Simple enough.
And finally the eggplant sauce: cut an eggplant in half, grate it until you reach the rindis it how it's called?. Sauté an onion, some garlic, the eggplant 'flesh', some bellpeppers in stripes and half a zucchini cut thinly with a mandolin. Season with salt, pepper and chili. When the vegetables soften, add a tomato or two (skinned and/or crushed). Let cook for 5 to 10 minutes, and add a good dose of freshly grated parmesan. Halfway through the cooking process, add another clove of garlic, grated as well.